I was thrilled when I discovered these Coontie bushes in a yard in West Palm Beach, Florida, USA. Yes, I know, they're bare. But, that is actually good news because it means there've been caterpillars feeding on the leaves. And those caterpillars turn into cute little Atala butterflies!
This is significant because, at one point, the Atala butterfly, native to south Florida, was thought extinct during the mid 1960s. Atala butterflies use Coontie as the host plant for their caterpillars. Coontie is a small, tough, woody palm-like perennial plant.
It was used by Native Americans and later by European settlers who processed the Coontie's large storage root to extract an edible starch, which was used to make bread. Settlers continued the practice on an industrial level and by the early 1900s several commercial factories in south Florida processed Coontie roots for the manufacture of arrowroot biscuits.
Vintage advertisement for Arnott's Milk Arrowroot Biscuits.
Coontie plants started disappearing throughout Florida, and so did the Atala butterfly. By 1965, federal and state authorities thought the Atala was extinct.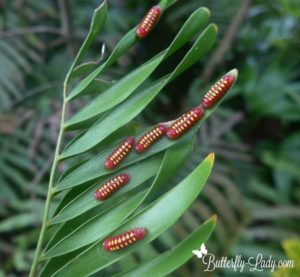 Coontie has made a comeback because Sunshine State gardeners have rediscovered that the native plant is well adapted to Florida yards. Its increased use in landscapes has encouraged the presence of the Atala butterfly. The Atala butterfly is now thriving, once again, in southern and Central Florida.
This is significant. Why? It means that you can make a huge impact on protecting butterflies by growing the right plants in your yard. Currently, Monarch (Danaus plexippus) butterfly populations are in decline because native Milkweed plants (Asclepias spp.), which Monarchs use as hosts for their caterpillars, are disappearing from farm fields and roadsides where milkweeds used to thrive.
Karen Oberhauser, monarch expert and professor at the University of Minnesota in Minneapolis, said, "North American gardeners can contribute by planting milkweed and making their land more butterfly friendly. Given the conservation challenges facing monarchs, it's vitally important that we mobilize as many people as possible. Through our collective efforts, monarch populations can rebound, so that their migrations may be appreciated by many generations to come," she concluded.
Let's work together, make our yards butterfly-friendly, plant Milkweed and native plants for the Monarchs (Danaus plexippus) and bring hope to these butterflies! Click here to locate Milkweed seeds for your garden.