So many wonderful books have been written for youngsters. Here are some of my favorites.
The Very Hungry Caterpillar
by Eric Carle
Of course, my all-time favorite children's book is Eric Carle's masterpiece. What a classic! This is a fun book to read, but it is not the best book to teach children about butterflies. After all, caterpillars do not eat oranges, or apples, or chocolate cake. Neither do caterpillars make cocoons. But it will delight children and  start them on their journey to learn more about butterflies.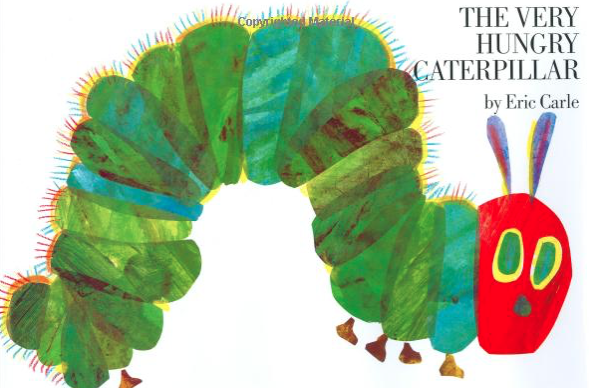 Waiting for Wings
written and illustrated by Lois Ehlert
Uniquely designed and illustrated, this delightful story explains the life cycle of butterflies. Rich language and the author's clever use of rhyme make this book appealing to young children. Complete with butterfly and flower facts plus identification tips, as well as a guide to planting a butterfly garden, this butterfly book is like no other.
Gotta Go, Gotta Go
written by Sam Swope and illustrated by Sue Riddle
This is a very fun book to read aloud to children, beginning with the Monarch (Danaus plexippus) caterpillar chanting, "I don't know much, but I know what I know. I gotta go! I gotta go! I gotta go to Mexico!" In simple, jaunty text and pictures, children will learn about the magical transformation of a caterpillar into a butterfly and its fantastic journey to Mexico.
How to Raise Monarch Butterflies: A Step-by-Step Guide for Kids
by Carol Pasternak
If your children want to learn how to raise Monarch butterflies, this is the book you must have. Carol Pasternak, The Monarch Butterfly Crusader, has filled the book with colorful and detailed photos. She shares secrets to help you find eggs and caterpillars, then provides detailed instructions on how to feed Monarch caterpillars, as well as how to take of Monarch adults.
A Butterfly Is Patient
written by Dianna Hutts Aston and illustrated by Sylvia Long
Children will learn so many interesting facts about butterflies in this beautifully illustrated book. From iridescent blue Swallowtails (Papilio spp.) and brilliant orange Monarchs to the world's tiniest butterfly, the Western Pygmy Blue (Brephidium exilis), and the largest, Queen Alexandra's Birdwing (Ornithoptera alexandrae), an incredible variety of butterflies are represented in all of their beauty and wonder. A lyrical text makes this a beautiful yet informative and entertaining read. Click here for a more detailed review of A Butterfly is Patient.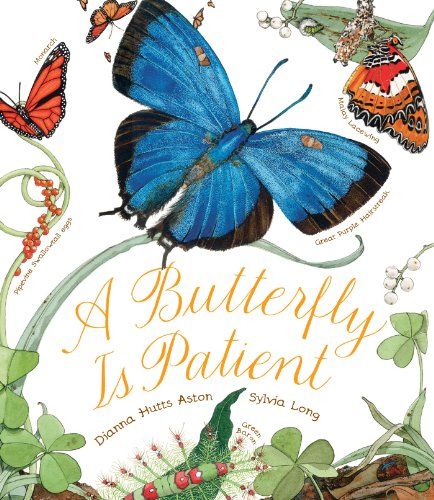 My, Oh My–a Butterfly!: All About Butterflies written by Tish Rabe and illustrated by Aristides Ruiz and Joe Mathieu
With a little help from the Cat in the Hat, Sally and Dick observe a small miracle in their own backyard—the metamorphosis of an egg into a caterpillar into a chrysalis into a bright new butterfly! Along the way, beginning readers will discover how butterflies see thousands of images at once, drink nectar from flowers, avoid predators; and how they can be identified by size, shape, and color. This book engages everyone with a fun combination of Dr. Seussian rhymes. It's a delightful read, not only for children, but for adults, too.
Ten Little Caterpillars
written by Bill Martin, Jr. and illustrated by Lois Elhert
I know, I was just supposed to name the top children's butterfly books but, caterpillars do become butterflies, and I just have to share this delightful book. It is written by Bill Martin, Jr., who wrote Brown, Bear, Brown Bear, What Do You See? and is illustrated by Lois Elhert, who wrote and illustrated Waiting for Wings (featured above). Each caterpillar has its own fun adventure. "The tenth little caterpillar hung on an apple tree… until by and by, it became a butterfly." The rhyming is delightful. There's also a glossary filled with intriguing information about all ten of the caterpillar stars!
The Reason for a Flower
written and illustrated by Ruth Heller

The relationship of butterflies, as well as other pollinators, are beautifully illustrated in this delightful book. The book is all about the reason for a flower and how plants make their own seeds.mThe reason for a flower? To propagate plants, clearly… but, as the illustrations show, also to enjoy!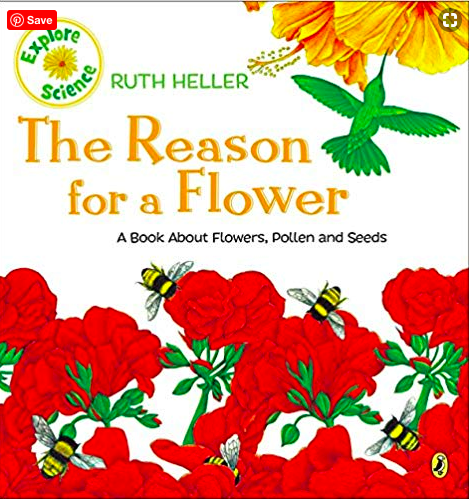 Butterfly Alphabet Book
written by Jerry Pallotta and Brian Cassie and illustrated by Mark Astrella

Welcome to the wonder and beauty of butterflies!  Learn about these amazing butterflies, and more, as you read from A to Z about a group of the world's most beautiful insects. This book will be a favorite with both the young butterfly lover and the experienced lepidopterist!
Fancy Nancy, Bonjour Butterfly
written and illustrated by Ruth Heller
Fancy Nancy, who adores butterflies,  has been invited to a butterfly-themed birthday party. But to her disappointment, she can't go because her grandparents' fiftieth-anniversary party is the same day. The story, in typical Fancy Nancy style, is original, wonderfully written, and includes a lesson for the little ones…not to mention the illustrations are absolutely beautiful! While this book is not really about butterflies, it is a fun read for anyone who loves butterflies.
The Girl Who Drew Butterflies: How Maria Merian's Art Changed Science


by

Joyce Sidman
An exceptionally crafted visual biography of a pioneering entomologist and naturalist who lived a life devoted to discovery, Maria Sibylla Merian, was also one of the first to document the metamorphosis of the butterfly. In this nonfiction biography, illustrated throughout with delightful full-color original paintings by Merian herself, author Joyce Sidman paints her own picture of one of the first female entomologists and a woman who flouted convention in the pursuit of knowledge and her passion for insects. A must read for young girls and boys, young adults, and older adults!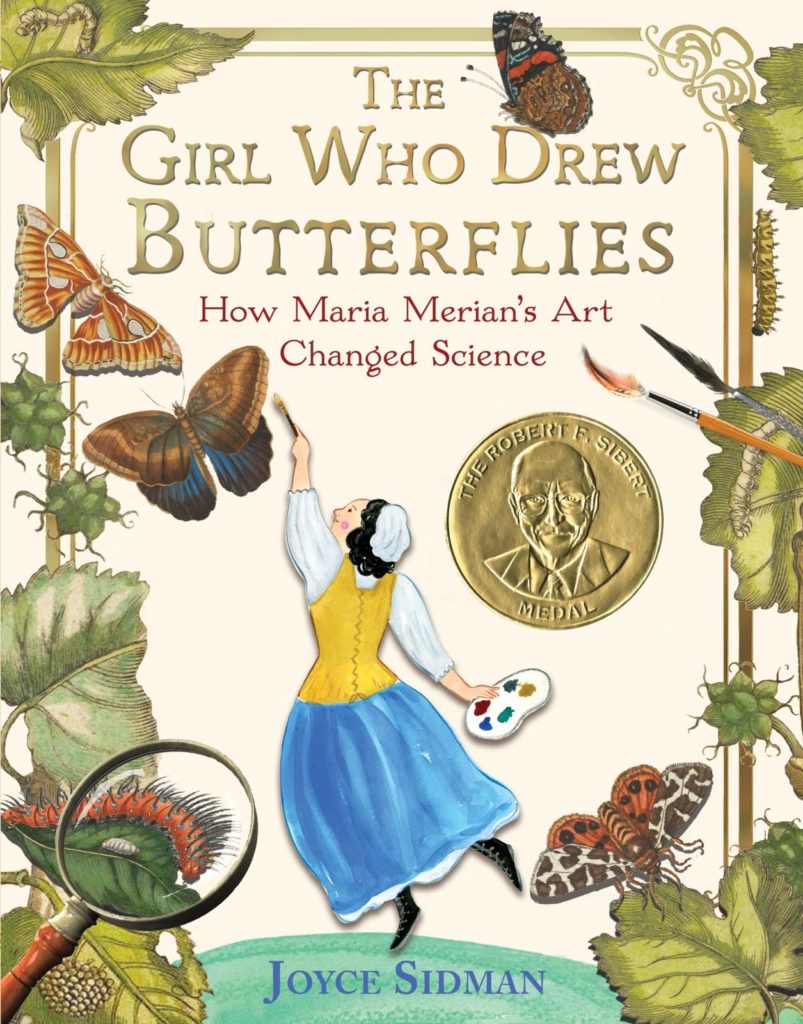 Monarch Butterflies by Ann Hobbie and Illustrated by 

Olga Baumert
With easy-to-read text and colorful, engaging illustrations, Monarch Butterflies presents young readers with rich, detailed information about the monarch's life cycle, anatomy, and the wonders of their migration, as well as how to raise monarchs at home and the cultural significance of monarchs in Day of the Dead celebrations. As the book considers how human behavior has harmed monarchs, it offers substantive ways kids can help make a positive difference. Children will learn how to turn lawns into native plant gardens, become involved in citizen science efforts such as tagging migrating monarchs and participating in population counts, and support organizations that work to conserve butterflies.